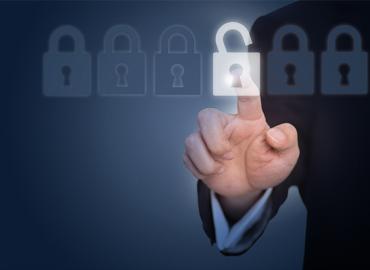 October is National Cyber Security Awareness Month (NCSAM) in the U.S., and during the second week of the month, the focus is on higher education. Data breaches affect organizations across every vertical, yet many of these breaches could be avoided. A 2016 study by Verizon found that 63 percent of confirmed data breaches involved weak, default or stolen passwords. Perhaps that's why The National Association of Campus Card Users (NACCU) has implemented regulations that help strengthen cyber security such as the mandate for multi-factor authentication (MFA). So, in celebration of NCSAM, I am going to discuss what MFA means and how you can implement it in your educational institution to reduce your risk of a breach.
Definition and Examples
It shouldn't come as a surprise that MFA is a security approach that requires multiple forms of identification. For example, a workstation that is secured through a MFA approach would need more than just a password to authenticate and give access to a user. The user would need to present two forms of identification. These forms could include:
An ownership factor form of identification, such as a student ID (credential)
A knowledge factor form of identification, such as a password
An Inherence factor form of identification, such as a biometric
A location factor form of identification, such as GPS or location tracking of a device, in which the smartphone unique identifier corresponds to a workstation's present location
A token form of identification, such as a RSA token or BLE beacon's unique identifier
Choosing the Right Form of Authentication
The Family Educational Rights and Privacy Act of 1974 (FERPA) protects the privacy of student education records. The Act requires that educational agencies and institutes use reasonable methods to authenticate the identity of both parents and students, as well as school officials and other individuals, from accessing protected information. By following MFA, organizations can meet this regulation.
As the leading manufacturer of workstation-based readers, RF IDeas offers best-in-class engineering in RFID authentication. RF IDeas delivers Radio Frequency Identification (RFID) and Bluetooth® Low Energy (BLE) pcProx® Plus card readers are compliant with nearly every credential type and beacon worldwide. Additionally, RF IDeas' readers are backward compatible and simplify the installation process by allowing education facilities to enable secure authentication with the current credentials, and easily transition to more secure credentials with the same hardware as the timelines and budgets allow. Our innovative products evolve with the ever-changing and demanding market needs and come guaranteed with our pre-sales engineering support to ensure your implementation teams and end customers enjoy a seamless experience. With a proven track record of world-class competencies and global certifications, trust RF IDeas as the smart choice for your education authentication application solution.
For more information about RF IDeas' authentication solutions for education, visit our Knowledge Center. And be sure to follow us on Facebook, Twitter and LinkedIn for more updates on NCSAM.
Share This Post