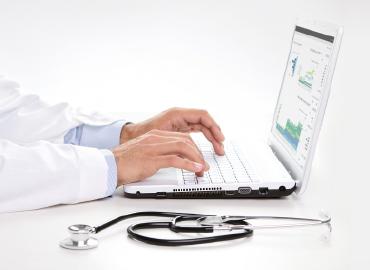 The average primary care physician has approximately 2,300 patients on their docket each year. To provide accurate care, that would require nearly 21.7 hours a day to deliver appropriate care for 2,500, which includes the additional sick visits doctors take in, in addition to their regular patient schedules. It doesn't take a mathematician to understand that those hours simply are not feasible, and something must be done to help doctors regain hours to their day.
The Stress of Logging in Resolved
Making a patient feel like they are heard should be at the forefront of every doctor's agenda. That means sitting down with a patient, making solid eye contact and reacting to the patient's comments and concerns. However, many doctors spend the first seconds or even minutes in a patient's room trying to log in to their electronic health records (EHR). Forgotten passwords and typos often result in doctors mumbling under their breath instead of listening as their patients divulge vital information about their health. Today, revolutionary single sign-on (SSO) solutions are helping eliminate the access frustration for doctors, redirecting valuable time back to the patient.
Single Sign-On Solutions
At the recent HIMSS trade show in Las Vegas, RF IDeas partnered with some of the leading healthcare technology institutions to showcase forward-looking tools that are making secure, HIPAA-compliant SSO solutions a reality. Take, for example, HealthCast Solutions is streamlining secure data access by utilizing existing employee badges and an RF IDeas reader to access multiple applications and EHRs. These are integrated into HealthCast's enhanced sign-on solutions, increasing desktop security and streamlining workflow – physicians state they save 30-45 minutes a day with this and are able to see 2-3 more patients each day.
Likewise, 2FA's tap & go integrated authentication solutions, which utilize RF IDeas readers to authentic a provider's badge and provide instant access to EHR
SSO solutions are lending healthcare providers a hand in their over-packed day. Taking the stress out of medical records access not only results in happier healthcare providers, but also gives patients a little more valuable face-time. For a full list of RF IDeas healthcare application solutions and partnerships showcased at HIMSS 2016, visit our HIMSS16 recap site.
Share This Post