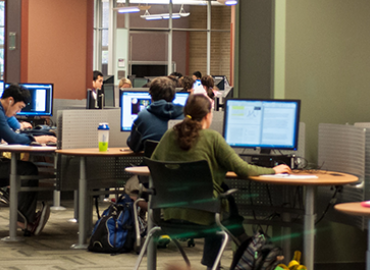 Adding flexibility and functionality to existing solutions
With concerns about rising costs topping the Forbes list of issues facing higher education institutions, universities are scrambling to find ways to cut the fat. In his remarks to West Virginia lawmakers, State Higher Education Chancellor Dr. Paul Hill noted that schools "cannot put much more burden on students or they begin to walk away and say 'I can't afford it.'"
One of the ways universities are reducing cost is finding opportunities to gain greater flexibility from solutions that are already in place. For example, most large universities already have ID badges that provide access to buildings. However, enabling the existing access card to do more than just getting in the door is an economical yet highly effective solution.
Increasingly, universities around the world are implementing "smart" student cards that can support multiple functions on a single card. According to a study conducted by Ingersoll Rand, the single-card solution serves as a photo ID, library card, campus recreation and wellness membership card, shuttle pass, parking access, audio/visual equipment checkout card, campus cash card, bookstore credit card, as well as a building access card. The single card provides greater convenience, improves user experience, reduces cost, and simplifies management.

Smart cards can also improve security, another top priority for schools. In a recent Campus Security article, author Jonathan Blackwood discusses the importance of keeping students, employees, patients, and even sensitive documents secure on educational, corporate, and healthcare campuses.
"No organization wants to be on the evening news because there was a breach and sensitive information was stolen or leaked." Blackwood goes on to say that one of the first steps is installing an access control system that allows only authorized individuals to enter certain areas on campus and can even prevent theft of unattended documents left lying next to a multi-function printer (MFP) waiting for pickup.
RFID-enabled readers enable existing RFID badges to access and interact with MFPs, even those that are in another room or off-site. Students, staff, or faculty sending documents from their PC, laptop, or tablet to the printer can rest assured that the document will not print until they reach the room, whether it's right away or days later. When they are ready to collect their documents, they simply tap the badge on the reader next to the MFP to release the job. The process prevents unauthorized eyes from reading or stealing sensitive documents, reduces cost from wasted ink and paper from forgotten copies, and allows institutions to reduce the number of printers required.
To learn more, contact your North America Regional Sales Manager or Sales@RFIDeas.com for all other regions.
Share This Post