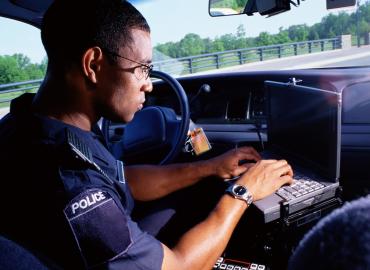 Last year, NYPD equipped its officers and patrol cars with 41,000 tablets, computers, and handheld devices. In fact, most police agencies today use multiple devices in the squad car for ticket writing, in-car computing, and sending in written reports. All of the devices compete for space in the squad car's limited front seat real estate and for officers who get around on two wheels, motorcycle or bicycle, there is even less space.
To address this challenge, many agencies are turning to high-powered, durable tablet computers that can be used for citations, evidence documentation, report writing and other forms of mobile data. Officers can easily carry the tablet from the police vehicle to the scene and enter data even as they are taking statements, entering license numbers, and writing up the citation.
However, security becomes an even greater issue when the device is out of the squad car and strong user authentication takes on even more critical importance.
RF IDeas new product – the pcProx® Nano reader – provides the perfect solution for durable on-the-go computer security. The nano is lightweight and enables quick, easy identification and access to computers. It helps maintain CJIS compliance while managing logins for multiple applications, provide advanced authentication and password management, and reduces login time to just a few seconds with a quick tap of the officer's ID badge onto the reader.
"Our new small badge reader incorporates all the features and power of our desktop and surface mount readers," says Tod Besse, Vice President of Sales. "We've designed the reader with a user-friendly style and a convenient size that makes it easy for the mobile worker to do his or her job while complying with organizational guidelines for authentication, identification and access."
The pcProx® Nano reader offers convenience and security in a small, lightweight mobile badge reader that plugs into all laptops and most tablets with a USB port.
For more information, contact sales@rfideas.com.
Share This Post