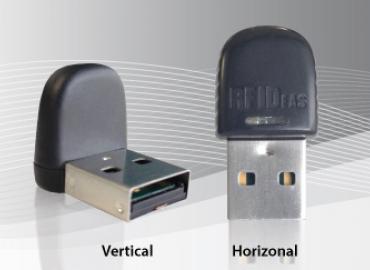 pcProx® Nano
We never stop improving!
Although it's only been a couple of months since we introduced our new pcProx Nano reader, the smallest reader on the market, we've already made it even smaller—and added a horizontal version!
The vertical Nano is just .72" high/62" wide/.72" long, while our new horizontal version is .36" high/.62" wide/ 1.14" long.
Both weigh in at just .14 ounces. But don't call them lightweights! These small but mighty readers were developed specifically for the mobile worker on-the-go and stand up to both HIPAA and CJIS compliance. Whether working in the office or out in the field, the Nano offers greater flexibility and saves room when there is limited desk space.
Depending on the customer's needs and solution requirements, the horizontal pcProx Nano can be easily inserted into a laptop USB port, integrated into certain hardware, inserted into recessed USB enclosures and more. The horizontal pcProx Nano also enables OEM integration with all-in-one PCs, keyboards and other critical hardware.
The pcProx Nano readers easily integrate with your existing badge system while keeping your mobile devices and their contents safe and secure from prying eyes both in the office and on the road.
For more information, contact Sales@RFIDeas.com.

Share This Post