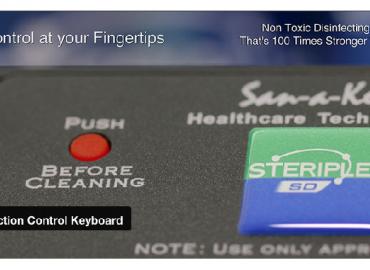 From the recent Ebola scare to the current measles epidemic, the emphasis on disease control and preventing the spread of infection has never been more critical. But sometimes it's the littlest things that can make the biggest difference.
Technology has enabled instant, interconnected communications for hospitals and other health care facilities, allowing physicians to check a patient's record not only on his or her office PC but also on a PC at the patient's bedside, nurse's station or emergency room. However, this technology has also introduced another opportunity for bacteria to gather. The keyboard, which is touched by many hands numerous times a day, must be cleaned regularly and kept germ-free but in a busy healthcare environment, that is often overlooked.
KSI Keyboards has designed a new keyboard that puts infection control at your fingertips. The notebook-style keyboard allows staff to push the Clean button on the upper left hand side of the keyboard, which turns off the keyboard. Staff can then quickly and easily wipe the keyboard down without unplugging or turning off the computer. The keyboard automatically senses when the cleaning is finished and automatically turns the keyboard back "ON" to continue working.
"Since the process is so easy, staff tends to clean them multiple times a day instead of never," says Kevin Krause of Security Rep, Inc., a representative of KSI.
The keyboard also adds a high level of security by accommodating an embedded RF IDeas OEM board, which eliminates the necessity of having a place to locate the reader. Several versions of the RF IDeas readers are available, including the RDR-80852AKU Dual Band pcProx reader. This allows users to tap an easily identified spot on the PC with their ID badge to authenticate, validate, and then unlock the computer for improved security.
For more information on this unique solution, please go to www.ksikeyboards.com; call 262-745-1447; or email kkrause@securityrep.com.
Share This Post