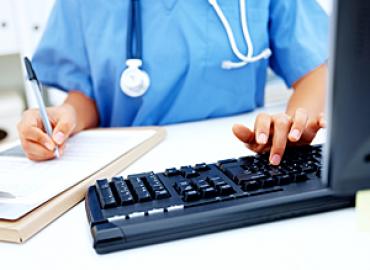 Improving infection control and ensuring patient confidentiality
A not-for-profit health system serving portions of Philadelphia and its western suburbs, Main Line Health offers acute and non-acute care through seven health care facilities, a multi-specialty physician network, and the Lankenau Institute for Medical Research.
CHALLENGES
Keeping computer keyboards free of bacteria: Handled hundreds of times a day, a PC or laptop keyboard can be a prime spot for the collection and spreading of infectious bacteria. However, standard keyboards require nurses to unplug them and go through the lengthy process of cleaning and disinfecting key by key, taking time away from patients and other duties.
Reducing clutter and freeing up PC ports: Previously, Main Line had deployed RF IDeas proximity readers throughout its four hospitals to help maintain adherence to HIPAA and enable staff to use their existing hospital ID badge to sign in to computers in the nurses' stations and on mobile carts. However, those surfaces were already cluttered, making it challenging to mount the readers. In addition, all of the peripherals needed a USB port, creating the problem of too many devices, not enough ports.
SOLUTION: Easy-clean KSI keyboards embedded with RF IDeas readers
Kevin Krause, president of Security Rep, Inc., helped Main Line put together the right solution with Key Source International's easy-clean, infection-control keyboards. Designing the keyboard with the ability to embed RF IDeas' Proximity scanner, the solution easily addressed both of Main Line's needs with one solution.
BENEFITS:
· Reduces time to clean and disinfect: Nurses can now finish the entire process in just a few minutes.
· Reduces clutter, more ports available: The RF IDeas reader is embedded inside the KSI keyboard, eliminating the need to mount an external reader and freeing up one of the ports.
· Drives reimbursement rates: Re-admissions related to hospital-acquired infections are not reimbursable. The solution helps Main Line drive quality measures that reduce infection risk.
· Avoids replacement cost: KSI's keyboards' five-year warranty helps MLH avoid significant cost of replacement for the thousands of computers in use throughout the health system.
"As a Magnet® designated hospital system, keeping infection rates low is extremely important for us," says Ann Hooper, MA, PMP, project manager for Main Line Health Information Services. "Only 7% of U.S. hospitals meet that criterion."
Learn more about Healthcare Industry Solutions »
Share This Post