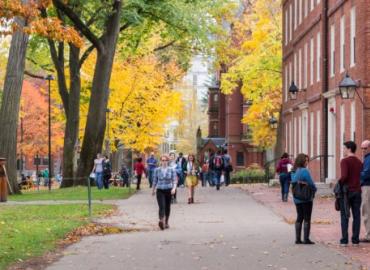 Founded in 1925, a private educational institution on the North America east coast offers low-cost, part-time evening studies in law and business for working adults. The school has expanded to include a College of Public Affairs and College of Arts and Sciences. The majority of its 6,500 students and 900 faculty and staff commute to campus on a daily basis.
CHALLENGES
Increase cost-efficiency, streamline management, improve customer service: The university needed to reduce the number of access and ID cards being managed by student, faculty and staff, and at the same time add as much digital functionality as possible, incorporating multi-use reader technology to accommodate campus legacy systems.
Increase ID card functionality: The existing ID card system was old and piecemeal, requiring everyone to carry a photo ID card and a parking card that often were adapted with stickers for use at the library and recreation center. Because the original card technology was fairly standard and old-school – magnetic stripe and proximity chips – their functionality was limited, too.
Enhance card security: Existing cards were easily duplicated, increasing the risk of unauthorized access to buildings. Because the card readers were mostly offline, rapid notification of emergency situations and potential lockdowns was a problem.
SOLUTION: Flexible RF IDeas readers
Encodable, multi-use cards incorporating mag stripe, MIFARE and proximity chips were paired with pcProx® 125 kHz and 13.56 MHz badge readers from RF IDeas. The 125 kHz proximity reader is used for office and parking access, while the 13.56 MHz reader is encoded with secure key sets to handle book checkout in the law library. The reader can also be programmed to read specific card sectors, and linked to a time clock to monitor time in/out at plant and facility operations sites.
BENEFITS: Cost effective, expanded functionality, tighter security
"The new ID cards and RF IDeas reader system helps make our campus more efficient and provides added security and convenience for our students, parents, staff and service providers," says the university spokesman. "It adds value to the campus experience and has opened up a wider range of possibilities."

Share This Post