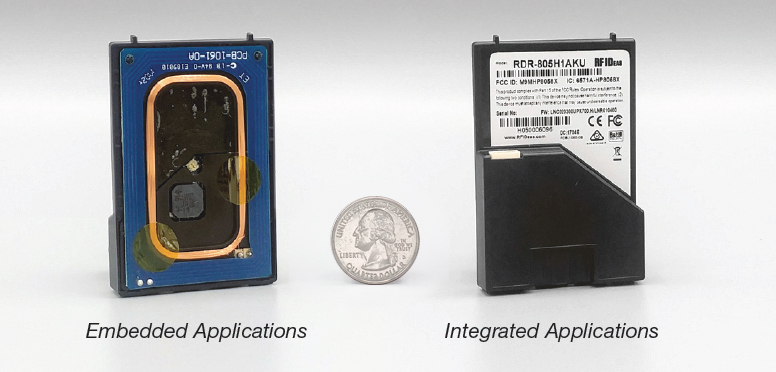 RF IDeas Embedded OEM Readers—Bringing Authentication Expertise to Your Solutions
RF IDeas is a leading global innovator and manufacturer of employee RF credential readers for in-building applications such as computer access, identification, time and attendance, and secure pull print.
Manufacturers gain innovative engineering expertise in the field of authentication by partnering with RF IDeas for an OEM authentication solution. Our readers not only operate across every industry, but also read virtually every card type on the market today. Our knowledge in identification and authentication translates to your product, allowing your customer to receive a more powerful, innovative design with our leadership in authentication and security.
Deliver cost-effective secure authentication solutions with RF IDeas' highly reliable, industry-leading embedded OEM readers.
RF IDeas' product offering is designed for direct integration or embedding into systems such as printers, all-in-one computers, monitors, industrial vending machines, laptops, kiosks, and more. Embedded OEM readers are perfect for 3rd party manufacturers or customers who want to integrate proximity and/or contactless smart card technology into their standard offerings.
With RF IDeas as your OEM partner, you can focus on your core business while utilizing our best-in-class single frequency or dual frequency RFID reader technology. By utilizing our engineering expertise, you also shorten your time to market and lower your risk and overall development cost.
Our knowledge of card technology is unparalleled in the industry. Our readers are highly configurable and can be set to meet the desired output for the end user's solution. Depending on the end user needs, readers are available as either 2 or 4 card configuration versions meaning the reader can read either 2 or 4 different card types. This is especially important when mergers and acquisitions occur and different card technologies are used between companies.
RF IDeas sales, engineering and development teams collaborate with partners to understand and define requirements to offer the best solutions. We understand when your product requires a card reader, the end-users' needs must be considered. We help you to simplify the process, sift through the details and add to your bottom line, all while getting to market faster. Our Embedded OEM portfolio offers everything you need to meet the needs of your customers in various form factors.
RF IDeas develops readers to meet the needs of the manufacturer and address the concerns of the end customer. Our embedded OEM readers enable users to easily embed active RFID read capability into their equipment, providing the security, reliability and convenience of proximity and contactless identification and access in a self-contained electronic module.
Readers help to improve workflow efficiency by eliminating manual entry of employee identification.
The need for authentication always exists, which is why there always will be an opportunity for an embedded OEM reader. Some examples include:
Multi-Function Printers
Medical carts
Medical equipment
Manufacturing
Work station applications
Industrial monitors
Tool cabinets
Point of Sale
Vending machines
Kiosks
Time & Attendance
Keyboards
And more...
Our readers are available in various form factors making them suitable for internal integration such as in recessed compartments or external mounting.
Relevant Products
pcProx® Non-Housed 125 kHz &
13.56 MHz
Read-only readers for identification & enrollment of proximity or contactless smart cards
Data Sheets
Brochures
Articles
View more RF IDeas Newsletters
Click here to learn more about Embedded OEM application solutions
Reader Part Numbers for Embedded OEM Applications
pcProx® Plus SP
| Part Number | Description |
| --- | --- |
| OEM-805H1AKU | pcProx Plus Enroll SP non-housed USB Reader |
pcProx® Plus
| Part Number | Description |
| --- | --- |
| OEM-805N1AK5 | pcProx Plus Enroll OEM module 5v Pin9 RS232 Reader |
| OEM-805N1AK5-02 | pcProx Plus Enroll OEM module 5v Pin9 RS232 Reader (no cable) |
| OEM-805N1AKT-02 | pcProx Plus Enroll OEM module 5v TTL Reader (no cable) |
| OEM-805N1AKT-07 | pcProx Plus Enroll OEM module 5v TTL Reader (no cable/beeper) |
| OEM-805N1AKU | pcProx Plus Enroll OEM module USB Reader |
| OEM-805N1AKU-C16 | pcProx Plus Enroll OEM module USB Reader, with 16" cable |
| OEM-805N1AKU-C36 | pcProx Plus Enroll OEM module USB Reader w/ 36" cable |
| OEM-805N1AKW | pcProx Plus Enroll OEM module Wiegand Reader |
| OEM-805N1AKW-06 | pcProx Plus Enroll OEM module Wiegand Reader (no cable/beeper/connector) |
| OEM-805N1-W | pcProx Plus Enroll OEM module Wiegand Reader (no cable) |
| OEM-805N2AK5 | pcProx Plus 82 Series OEM module 5v Pin9 RS232 Reader |
| OEM-805N2AK5-02 | pcProx Plus 82 Series OEM module 5v Pin9 RS232 Reader (no cable) |
| OEM-805N2AK5-07 | pcProx Plus 82 Series OEM module 5v Pin9 RS232 Reader (no cable/connector) |
| OEM-805N2AKT-07 | pcProx Plus 82 Series OEM module TTL Reader (no cable/connector) |
| OEM-805N2AKU | pcProx Plus 82 Series OEM module USB Reader |
| OEM-805N2AKU-02 | pcProx Plus 82 Series OEM module USB Reader (no cable/connector) |
| OEM-805N2AKU-02C | pcProx Plus 82 Series OEM module USB Reader (no cable/connector) |
| OEM-805N2AKU-C04 | pcProx Plus 82 Series OEM module USB Reader w/3.5 in |
pcProx®
| Part Number | Description |
| --- | --- |
| OEM-6022AXU | pcProx 82 Series HID® Prox Black Horizontal USB Nano Reader |
| OEM-6ND1AKU | pcProx Enroll Nexwatch non-housing USB Dongle Reader |
| OEM-7021AKU | pcProx Enroll HID® iCLASS® SE & Seos OEM Horizontal USB Nano Reader |
| OEM-7522AXU | pcProx 82 Series 13.56MHz CSN OEM USB Nano Reader |