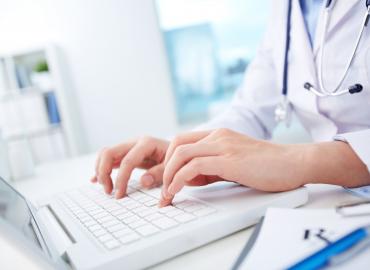 It is hard to believe that another year has passed and HIMSS19 has come to a close. With over 43,000 attendees traversing the exhibit hall, the show was a resounding success. The same was true for RF IDeas where we saw a constant flow of healthcare IT professionals crisscrossing our exhibit across the five days of the show. In case we missed you, here is a brief glimpse of some of the new solutions for 2019 we showcased.
Authentication Showcase
Over the years, RF IDeas has established a clear leadership position in identity access management, but not without support from partners that are also leaders in the field. Thanks to the strength of those relationships, our success in creating a solution ecosystem was on full display at the RF IDeas partner pavilion at HIMSS 2019. Together with our showcase and technology partners, we demonstrated the leading innovative solutions that are advancing authentication for increased security, versatility, and mobility in today's most challenging healthcare environments.
Advances in Authentication for Healthcare
The RF IDeas pcProx Plus and pcProx Plus Bluetooth® Low Energy (BLE) technology Single Sign-On (SSO) and location services solutions—which read proximity, contactless smartcards and Bluetooth-enabled devices in one reader—are now integrated with the Certify Global authentication platform. This solution enables a wide range of applications, including:
• Integrated Positive Patient Identification (PPID)
• Authenticated workstation log-in
• Secure patient check-in and intake
• Two-factor authentication for DEA-compliant E-Prescribing of Controlled Substances (EPCS)
• Real-time security reporting
In addition, the pcProx Plus BLE readers are being integrated into the RabbitTrak system for physician, visitor and vendor locating, asset tracking and management, and indoor wayfinding.
Custom-Designed Notebook Embedded Reader for Healthcare Applications
RF IDeas was the authentication partner in the development of the new Lenovo ThinkPad T490 Healthcare Edition, which is designed to safeguard device access and protect confidential patient data through secure, multi-factor authentication methods. The compact design of the RF IDeas' reader made it an ideal choice for embedding with the laptop's small space requirements.
Healthcare SSO on Chrome Devices
Working with Chrome Enterprise, RF IDeas has integrated our pcProx Nano, the world's smallest proximity or contactless badge reader, into a healthcare SSO solution that runs on Chrome devices. Now, healthcare providers using Chrome devices can simply tap a badge to access their workstations and gain instant access to their virtual desktop environments.
Mobile Authentication in Healthcare
Thanks to the new compatibility with Orange Business Services Pack ID mobile credentials, RF IDeas was able to showcase the expansion of the pcProx Plus BLE offering to include mobile applications. The reader supports widespread applications in healthcare environments that include secure print, network login, cashless vending and many others. With its compatibility with Orange's Pack ID, the pcProx Plus BLE now offers a truly mobile secure authentication solution for logical access. This new solution will be commercially available at the end of Q1 2019.
Authentication for Mobile Smartcards
The RF IDeas partnership with Safetrust enables our pcProx Plus BLE credential reader to accept mobile credentials for a wide range of applications that typically reside on smartcards. This new capability, which will be commercially available by Q2 2019, means that our readers will have built-in support for Safetrust's Wallet application to enable authentication for secure print, SSO, POS transactions and other activities.
Secure PHI on Shared Workstations
Expanding on my previous blog post on BLE making inroads in healthcare, Imprivata announced Proximity Aware, healthcare's only solution that leverages the power of Bluetooth to secure protected health information (PHI) on shared workstations without disrupting clinical workflow. Here is how it works.
Using Bluetooth Low Energy connectivity, Imprivata Proximity Aware monitors for the Imprivata ID mobile application running on a user's mobile device. As long as the user's mobile device is detected, the user's workstation will remain unlocked and the session will remain open, even in the event of perceived inactivity.
When the user steps away from the workstation, Imprivata Proximity Aware will no longer detect their mobile device and will initiate the predefined logout sequence. Optionally, when the user returns, Imprivata Proximity Aware will again detect the user's mobile device and unlock the workstation without any interaction from the user.
From the Workstation to the Bedside
The strategic partnerships that RF IDeas has forged over the years have made it possible for us to play a leading role in the development of applications that turn the page on authentication in the world of healthcare, helping IT organizations streamline user-centric experiences, while supporting clinical improvements and adding value for patients.
Share This Post