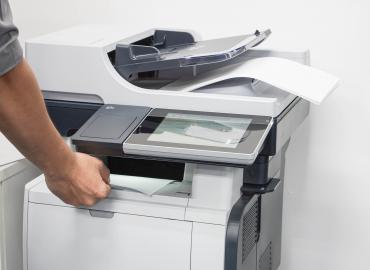 There could be a security risk hiding in plain sight in your workplace. Consider this: Those hard-working printers scattered throughout your offices could actually be serving as easy entry points for security breaches.
Because printers are connected to the desktops, laptops, smartphones, cloud and remote printing services we use every day, they're actually state-of-the-art network devices for document and data storage. In addition to the risk of unauthorized access to sensitive information on documents that may be laying exposed in printer trays, unauthorized access to unprotected networked connected printers and MFPs creates certain risk for breach by nefarious entities.
Seriously, it's a real issue.
And it's happening more often than you think. A recent survey of organizations that operate a managed print service conducted by Quocirca found that 61% of respondents had experienced at least one data loss event in the previous year. Yet, even as businesses invest heavily in the security of their IT infrastructures, printer security remains an overlooked risk. Not surprisingly, only 16% of respondents to a recent survey by Ponemon Institute considered printers to be at high risk for a security threat or breach.1
The good news is that there are a number of best practices and solutions that can help you improve your printer security and prevent serious vulnerabilities. Some of the most important steps you can take now to ensure you're protected include:
Require authentication for administrative access. Better yet, require all document owners to authenticate themselves. Explore all the options that are available, including PIN authentication, LDAP authentication, smart cards, biometric security, single-use SMS codes and smartphone apps.
Check to see that you're running the most current version of your printers' firmware. That's one way to ensure that you have the latest available fixes for security issues.
If you don't need access to printing with SMTP or FTP, shut them down. They're just another way that attackers can access your documents and data.
Check your printer drivers, security tools or print management software. Investigate ways to encrypt print jobs while they're in transit to and from printers.
Deploy secure pull printing. This two-step process—which holds a print job on a server or workstation until it is released by an authorized user at the printer—provides additional protection for sensitive documents.
With a secure print management solution, organizations can:
Protect important information and reduce data breaches by controlling printer access
Meet data protection regulations and government compliance
Validate employee credentials for authorized access
Streamline print operations by eliminating the need to enter PINs, codes and passwords
Set a global standard for secure print access across the network.
Authenticate. Authenticate. Authenticate.
Without authentication, there simply is no security. To effectively protect your data, it's important to ensure that only authorized users are able to access printers and the networks to which they are connected. When seeking a printing management solution, it's important to look for features that will help you protect your sensitive information and reduce data breaches. Many of today's multifunction printers include embedded OEM readers that can authenticate virtually every proximity and contactless smart card, giving employees the ability to use their identification badges to access and interact with the printers.
For more information about how RF IDeas can help your business protect your sensitive printer data,, visit our secure print web pages and watch our secure print video.
1 www.csoonline.com/article/3229964/security/cozying-up-to-the-lonely-network-printer.html
Share This Post