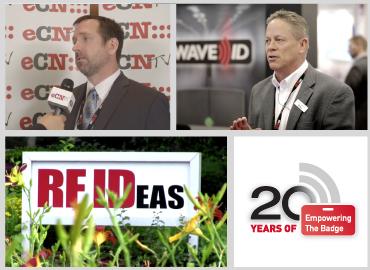 Brilliant ideas sometimes come out of nowhere when you least expect it. Even better is when you know that the idea fills an unmet need in the marketplace because you have that need yourself.
Back in the mid-1980s, Greg Gliniecki joined Glenco Engineering, eventually becoming co-owner in the company founded by Rick Landuyt and another partner. Glenco Engineering designed and manufactured special disks that could not be copied by the standard disk drives on the market at that time.
"One day I was working on a sensitive document on my computer and was called back to the warehouse," says Rick Landuyt, RF IDeas, President and CEO. "When I came back to my office, I noticed someone had dropped off a stack of papers on my desk. I also realized I had accidentally left the confidential document up on the screen where anyone could see it."
Although Landuyt had a screen saver, it was more annoying than secure. "The problem with the screen saver is if you set it to lock too soon, you have to log back in all the time," he said. "If you set it too long, it doesn't provide enough protection."
Landuyt walked into Gliniecki' s office and told him they needed to come up with a badge that detects when you walk away and automatically locks the computer, then detects when you come back and unlocks the computer.
"We tossed the idea back and forth and a few days later we decided we could build that," recalls Gliniecki, RF IDeas Vice President. "At that point, the conversation started spiraling out of control and by the end of the day, we pretty much had a whole new company planned out and RF IDeas was born."
The partners sold Glenco Engineering and Gliniecki and Landuyt began working out of a small building with a skeleton staff on a unique product they knew could be successful.
"We developed the hardware and thought all the big OS and network companies would jump on the chance to support this new, innovative solution," recalls Gliniecki. "We sent out press releases and gave interviews galore that appeared in the most influential industry magazines and news programs."
It was a can't-lose scenario and the partners felt that success was eminent except for one small bump – no one seemed to want it. Despite the enthusiasm of investors and the media, potential customers liked the concept but not the execution. At the time, door access control cards were becoming popular and no one was interested in asking their employees to carry yet another badge to lock and unlock their PCs.
Although they were flat broke and ready to give up on the company they had been building for the past three years, they listened closely to that customer input and decided to abandon the idea of creating a new badge. Instead, Landuyt and Gliniecki engaged an established badge manufacturer to adopt RF IDeas' technology, which would not only leverage the investment the manufacturer had already made, but would help RF IDeas sell to an existing, established installed base.
"We chucked everything else we were working on, took all of the log-in software and relevant designs we had come up with in the past couple of years and started with that," says Landuyt. "From that point on, we never looked back."
In 2015, RF IDeas will be celebrating 20 years in business. With a lot of hard work, a highly competent work force, and a company culture focused on speed, responsiveness, and agility, RF IDeas' WaveID® is the standard for card-based authentication and identification solutions for "non-door" applications. The company's pcProx® card readers support nearly every proximity and contactless smart card in use worldwide. RF IDeas has made the Inc. 500|5000 list of fastest growing private companies in America every year they've applied, compiling a four-year record of achievement.
"Our business is built around three simple things – responsiveness, agility and speed," says Gliniecki. "We've come a long way but we have never lost that entrepreneurial spirit or intense focus on our customers and we will continue to use their input to drive where we move our products forward."
RF IDeas Company Overview--Video
WaveID Solutions From RF IDeas--Video
Share This Post