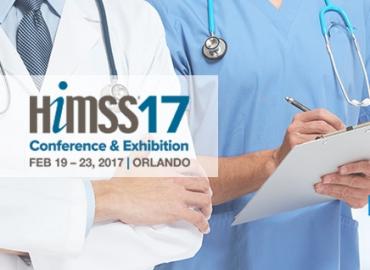 This year's HIMSS trade show in Orlando, Florida, is scheduled to be abuzz with some of the hottest topics in today's healthcare IT. From cybersecurity, authentication solutions, and ensuring your EHRs are secure at every point of contact, we'll dive into a preview of the hot-topics and must-see content of the 2017 show, including some of the demonstrations you can view at RF IDeas' booth. In doing so, we'll walk you through the life of a healthcare provider, demonstrating how healthcare IT solutions are helping keep your data safe during its most vulnerable states.
Cybersecurity
With current estimates anticipating cybersecurity damages to hit $6 trillion annually by 2021, it's no wonder why this topic is a hot button on many attendee's minds at HIMSS. Kicking off the topic, visitors can attend the Cybersecurity Forum on Sunday, Feb. 19 from 8:00 a.m. to 4:30 p.m. where HIMSS and CHIME will explore lessons learned, current challenges, and the road ahead in the cybersecurity journey. Additional items on the must-see items for cybersecurity include:
A continuing education unit entitled, "Putting CMIOS at the Center of Cybersecurity" on Feb. 19 from 12:45 p.m. to 1:45 p.m. in the Regency Ballroom R.
A must-see for tips on how to improve your organization's security posture and learn about cutting-edge technologies to defend against cyber adversaries, the Cybersecurity Command Center will be located throughout the conference at Booth 376 | Hall A.
Authentication Solutions
Healthcare providers currently are more strapped on time than ever before, which is why simplifying what should be one of their easiest tasks has become top on many HIMSS attendee's lists. How can we cut authentication time, so records remain secure, yet healthcare providers don't dedicate 30-60 seconds on login activities every time they want to access a computer or patient record? Authentication solutions presented at HIMSS will help address these concerns. Hot items on the must-see authentication solutions list include:
A continuing education unit entitled, "Two-factor is not enough" on Feb. 20 from 10:30 a.m. to 11:00 a.m. in Booth 376.
As a leading innovator and manufacturer of in-building identification and access control readers, RF IDeas will showcase several partner demonstrations and presentations in Booth #443. Topics will include, among others:
o Micro Focus's demonstration of how to use your ID badges with its multi-factor authentication and single sign-on solutions to resolve the conflict between tight safeguards and fast access.
o A demonstration on how to quickly and securely log on to any of your institution's hospital workstations and kiosk systems using your existing RFID building badges with RapidIdentity "tap and go access" and single sign-on solutions from Identity Automation.
Securing EHRs
Electronic health records, or EHRs always are top-of-mind for anyone in the healthcare field, specifically as HIPAA laws and recent breaches inevitably keep them in the news. HIMSS always has been dedicated to data security and the protection of patient records, and this year will be no different. Leading EHR features of this year's show include:
For more information on this year's HIMSS tradeshow, visit the official HIMSS 2017 website.
Click here to learn more about RF IDeas and the presentations to be held in our booth.
Share This Post