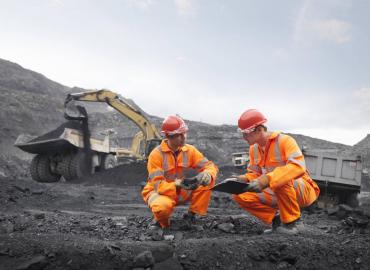 In a January 2015 news release, the Mine Safety and Health Administration (MSHA) issued a report about fatalities of miners in work-related accidents the previous year. "Advancements in health and safety require the cooperation of the entire mining community," says Joseph A. Main, assistant secretary of labor for mine safety and health.
CHALLENGE:
Recently, the safety and training coordinator of a large North American mining operation deemed the process of using paper sign-in sheets to keep a record of each person's location laborious and inaccurate. The current process required each of its 70-80 contractors to physically sign in/out as they moved from area to area throughout their shift and other individuals, such as delivery drivers, rarely signed in at all, creating additional liability. The coordinator wanted an up-to-date, easily accessible record of all contractors, visitors, and employees onsite at any given time for safety compliance.
SOLUTION: Quick tap of ID badge enables rapid emergency roll call
The mine deployed Savance's Observint Technologies Infinias eIDC controllers with RF IDeas pcProx® readers and matching "out" card readers, along with Savance's EIOBoard Kiosk and Offline Emergency Roll Call. This end-to-end solution would allow contractors to quickly tap their ID badge against the pcProx reader when they entered and exited the premises. Each access area served as a check-in/check-out point and an Offline Emergency Roll Call Tablet, which continuously syncs with the system, is ready to do roll call even if connectivity to the system is down.
RESULTS:
Emergency roll call: Quickly identifies who is on the premises, where they are, and when they left.
Simple sign-in process: A quick tap of the ID badge over the RF IDeas readers reduces sign-in time and increases accuracy.
Greater accountability: An electronic log of each visitor who enters/exits the premises ensures visibility to each individual's location.
Saves reporting time: The company estimates it has saved up to 40% of time it takes to develop compliance reports, validate contractor hours, and track overtime.
More effective staff communication: Staff can use the system to communicate more effectively through chat groups to discuss projects, identify who is covering a shift, list who is on vacation, etc.
"The solution has accomplished everything we had hoped for and more," says the Safety and Training Coordinator.
Share This Post