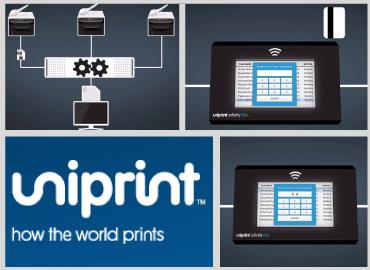 UniPrint Enhances Printing Functionality
Every year corporations spend billions of dollars securing e-mail systems and data centers around the world. In contrast, only a small fraction of that amount is spent securing printing. However, documents sent electronically to a printer can increase the exposure of sensitive or confidential documents if the sender isn't standing there to collect them as they print.
UniPrint, a division of ACCEO Solutions, Inc. and an RF IDeas partner, pioneered the use of PDF-based universal printer driver technology to streamline and enhance printing in Server-based Computing environments. Today, the company is the recognized leader in printing virtualization.
Together, RF IDeas and UniPrint help increase document security even further with UniPrint's Two-Factor Authorization Process and RF IDeas readers. Implementing two-factor authentication using UniPrint Infinity is simple. The UniPrint™ vPad is fully compatible with RF IDeas smart card readers and can incorporate RFID, HID™ or FOB devices already employed by organizations. The user can then create a secure alphanumeric pin as part of the process to release his or her print jobs.
The end result: With secure pull printing one eliminates the possibility of print outputs lying in the printer trays unattended and being picked up and viewed by unauthorized personnel or worst still by corporate espionage.
The solution also promotes day to day cost savings because the opportunity for print jobs to be sent and forgotten is eliminated.
CASE STUDY: CA (formerly Computer Associates), a $4B IT management software and solutions company, estimates that because print jobs are no longer abandoned or forgotten in the company's copy rooms, they have reduced the consumption of up to 1,400 trees per year.
Learn more about UniPrint »
Contact UniPrint: Sales@UniPrint.net »
Share This Post