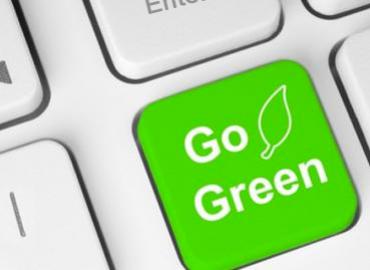 How to Save Trees, Money and Space
The word 'green' has always represented good things. It's the symbol of nature in full bloom. It's a term for money, something we all need. In some countries, green is the color of hope. But to us, green means doing what we can to preserve the environment.
Did you know that...
It takes 60% of a mature tree to make a single case of paper?
One office worker can use up to 10,000 pages of paper per year?
Up to 90% of businesses don't track their printing cost?
Those businesses could easily reduce that cost by up to 30 percent?
Let's talk for a minute about multi-function printers. Gartner Group recently found that companies typically underestimate their printing cost by up to 40%.
That's a whole lot of green!
That cost doesn't just include paper. It also involves tying up the very expensive help desk because 50% of the calls made by employees to their help desk involve a problem with the printer. Plus having lots of printers takes up lots of room; valuable real estate most companies would rather devote to more important things.
So, back to multi-function printers (MFPs)…
An MFP combines the functionality of a printer, copier, scanner, and fax into one machine, saving trees, time, money, and a lot of maintenance headaches. Now, in case you're wondering why we are writing a blog about MFPs, well it's because we help make a good thing even better.
With an RFID-enabled employee ID badge and an RF IDeas reader mounted on the MFP, employees can send their documents to be printed and be assured that the print job won't take place until they tap their badge on the reader to start the job. Sounds simple, but here's the good part.
MFPs also improve:
Day-to-day cost savings: Paper and toner usage is immediately reduced because the opportunity for print jobs to be sent and forgotten is eliminated.
Annual cost savings: Reduced number of printers required lowers both initial investment and ongoing maintenance.
Employee efficiency: Employees sending documents to another office (local or remote) can print them upon arrival, eliminating the need to transport heavy bundles of paper.
Sustainability: CA (formerly Computer Associates), a $4B IT management software and solutions company, estimates that because print jobs are no longer abandoned or forgotten in copy rooms, they have been able to reduce the consumption of up to 1,400 trees per year.
Security/Compliance: Sensitive documents no longer sit on the printer unattended until the originator picks them up, reducing exposure to personnel not authorized to view, improving security and meeting industry compliance.
And speaking of security, our Ethernet 241™ will add a whole new level to secure printing solutions. But that's a topic for another blog.
To learn more about RF IDeas Print Management click here
Share This Post