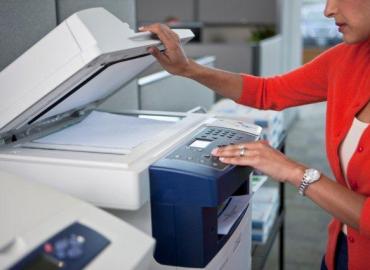 If your organization has already made the leap from single function printers, scanners, copiers, and fax machines to multi-function printers (MFPs) that combine all of those devices into one machine, you're ahead of the game. You've already learned that your print costs have decreased, your help desk calls are fewer, and you've used so much less paper that you've probably saved a forest full of trees.
But if you're still thinking about it, consider this.
According to a recent article published on itproportal.com, "Top Five Reasons Enterprises Deploy a Print Management Solution", the author points out that MFPs enable:
1. Secure Access: Users tapping their ID badges on the reader ensures that only authorized employees use the machines and provides an audit trail of metadata for each user's activity.
2. Eliminate Waste: Documents are only released when the employee is physically in the copy room, eliminating forgotten print jobs, wasted paper, and sensitive documents falling into unauthorized hands.
3. Reduce Cost: Pop-up notices can inform the user of alternate choices, such as reducing the usage of color copies and printing double-sided, saving expensive toner and reams of paper.
4. Increase Productivity: Simple one-click scanning lets users send documents straight to email, a pre-defined folder or use scripts to integrate with third party solutions such as ERP systems or other accounting/finance applications.
5. Support BYOD: Printing from smartphones and tablets enables mobility and users can send their print job via email or by uploading to a website.
While each and every one of those five points positively impacts your business, you'll notice that the number one reason on the above list is document security. The threat from hackers i a reality with the department for Business Innovation and Skills (BIS) reporting that data breaches have reached "near-epidemic proportions".
In an article published by IT Security Guru, Grant Howard, Professional Services Technical Manager at Annodata, says that "Many hackers will be able to access the entire network through tracking the metadata of printed documents, or by hacking the passcode of the MFP. Whether these breaches are caused by an attack from an unauthorized outsider, or internal factors, such as human error, systems must be put in place to resist disruption to the network."
The time for complacency is past. With RF IDeas readers and Ethernet 241 devices, along with employee ID badges and third party security software, your printed data will be secure from hackers, ensuring that sensitive internal data remains confidential and secure.

Share This Post