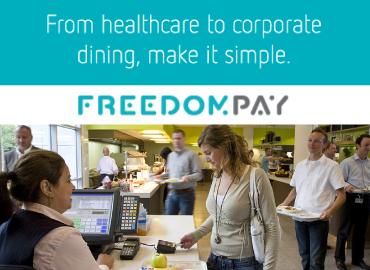 Give your employees longer lunch breaks with Cashless Cafeteria
Your employees work hard and finding ways to make their day easier creates greater job satisfaction and higher productivity.
RF IDeas and its partner, FreedomPay® work together to help make that happen, allowing employees to spend less time waiting in long, slow-moving cafeteria lines. With the FreedomPay cashless platform and RF IDeas pcProx® readers, cafeteria workers total up the amount and employees simply tap their RFID-enabled ID badge against the reader. The amount is immediately deducted from the employee's account and they're off to enjoy their lunch break quickly and easily.
Cashless cafeterias can shave at least ten seconds off each transaction, keeping the line moving and avoiding back-ups that cut into an employee's lunch break. Employees can choose whether to tie their purchases to a credit card or have it deducted from their paycheck. In addition, they can log into their account at any time to view and reconcile their purchases.
FreedomPay and RF IDeas deliver a high-performance, highly secure user experience with a platform that seamlessly interconnects POS systems, transaction hosts, incentive engines and other disparate systems to create a cutting edge transaction superhighway. The solution provides complete payment data security, including EMV and NFC compliance, in accordance with certification from the PCI Security Standards Council.
Learn about RF IDeas POS specific readers »
Share This Post