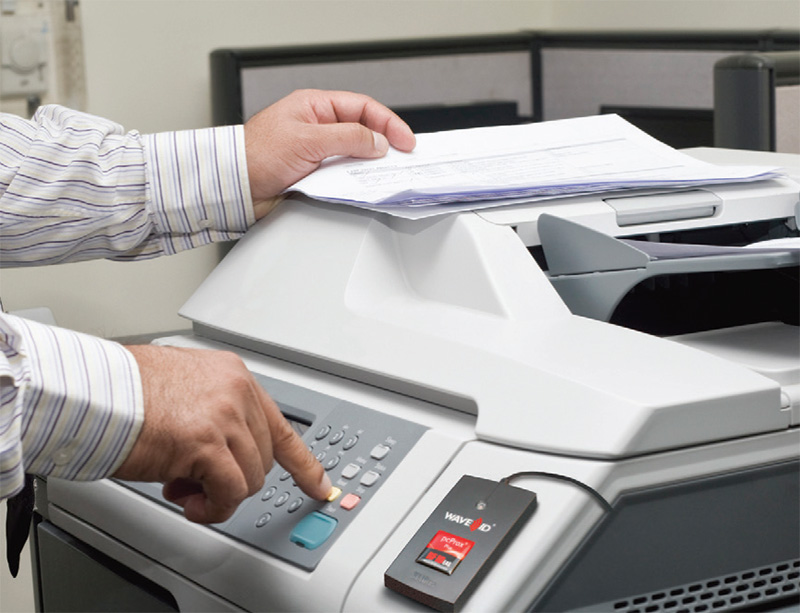 Without Authentication, There Is No Security
RF IDeas' readers are easy to integrate with your current printer solutions. Readers can authenticate virtually every proximity and contactless smart card on the market, ensuring that confidential information is kept secured.
Multi-function printers (MFPs) are an excellent business asset. They can provide a wide range of functions because of their internal hard drive, network connection, and online interface – but it is also these features that leave you vulnerable.
MFPs in an office are susceptible to a security attack. Left unprotected, they leave you open to data being stolen or misdirected from the printer, or offer a platform from which hackers can launch larger network attacks.
More and more, installations of these printers are available with an added feature: an embedded RF IDeas reader. RF IDeas readers add the ability to use the same badge employees used for identification and access to interact with the printers.
RF IDeas works closely with our partners to offer a customer-centric secure print solution.
As a preferred manufacturer of hardware products for your secure print application, RF IDeas offers best in class engineering expertise in RFID authentication to complete any secure print solution. RF IDeas, the marketplace leader, delivers readers that are compliant with nearly every card type worldwide. Additionally, RF IDeas' backward compatible readers simplify the installation process and easily integrate with existing applications. Our innovative products evolve with the ever-changing market needs and come guaranteed with our pre-sales engineering support to ensure your sales team and end-customers enjoy a seamless experience. With a proven track record of world-class competencies and global certifications, trust RF IDeas as the smart choice for your secure print authentication application solution.
When organizations add RF IDeas' readers to their MFPs, they are providing benefits across the entire company:
Security: Secure printing allows users to send print jobs securely without the need to rush to the printer to pick up their printed documents. Until the user swipes their credentials, the print job remains in queue, unprinted. If a user decides to, they can cancel at any time rather than printing it. Now, the chances of sensitive information getting into the wrong hands becomes almost non-existent.
Day-to-Day Cost Savings: Print jobs that are sent, but never picked up stop being printed. This causes a reduction in paper costs, toner costs, repair costs, and less wear-and-tear on the printers over time. Now your printing is also environmentally friendly. This approach completely eradicates wasted prints and directly saves your business money.
Flexibility: Print jobs are no longer limited to the local printer. users can choose to collect their print jobs from any print device and at any time, even at other facilities. This reduces bottle-necks at printers, unnecessary queuing at printers, employee print frustrations, and allows employee time to be spent more productively.
Our readers are available in various form factors making them suitable for internal integration such as in recessed compartments or external mounting.
Relevant Products
pcProx® Plus
Dual-frequency card reader for identification and enrollment (reads nearly all card types)
Reader Part Numbers for Secure Print Applications
pcProx® Plus
| Part Number | Description |
| --- | --- |
| RDR-80581AKU | pcProx Plus Black Desktop USB |
| RDR-80581AKU-C06 | pcProx Plus Black Desktop USB with 6in (15.24cm) cable |
| RDR-80081AKU | pcProx Plus with iCLASS SE™ technology Black Desktop USB |
| RDR-80081AKU-C06 | pcProx Plus with iCLASS SE™ technology Black Desktop USB with 6in (15.24cm) cable |
pcProx® Plus SP
| Part Number | Description |
| --- | --- |
| RDR-805H1AKU | pcProx Plus Black SP USB |
| RDR-800H1AKU | pcProx Plus with iCLASS SE™ technology Black SP USB |
pcProx®
| Part Number | Description |
| --- | --- |
| RDR-7J81AKU | pcProx 13.56 MHz Sielox Black Desktop USB |
| RDR-7L81AKU | pcProx 13.56 MHz LEGIC® Black Desktop USB |
| RDR-7P71AKU | pcProx 13.56 MHz FIPS201/PIV Black Desktop USB |
| RDR-7Y81AKU | pcProx 13.56 MHz XceedID Black Desktop USB |
pcSwipe™
| Part Number | Description |
| --- | --- |
| MS3-00M1AKU | pcSwipe Black Magnetic Stripe 3-Track USB |
Ethernet 241™
| Part Number | Description |
| --- | --- |
| C-N11NCK4 | Ethernet 241 Serial/USB Converter with Power Supply |
Ethernet 241™ Kits (kit includes Ethernet 241 and a pcProx Plus reader)
| Part Number | Description |
| --- | --- |
| KT-80581AKU4 | pcProx Plus Black USB & 241 Serial/USB |
| KT-80081AKU4 | pcProx Plus with iCLASS SE™ Technology Black USB & 241 Serial/USB |